MEMORY – FRAGMENT 3 – NY USA – 2017
EXHIBITION AT  – NEW YORK STATE COLLEGE OF CERAMIC ARTS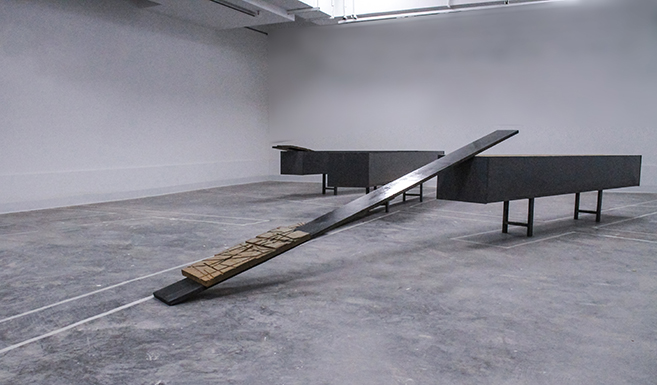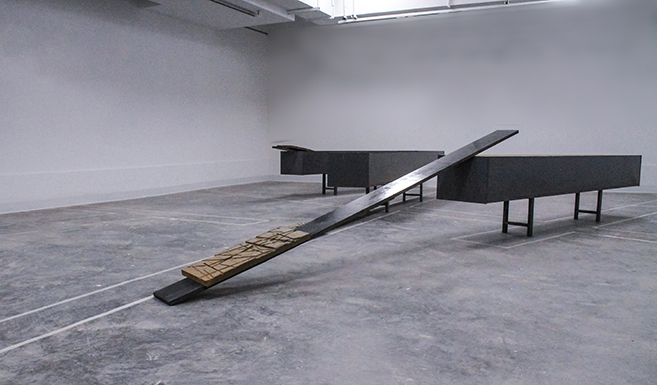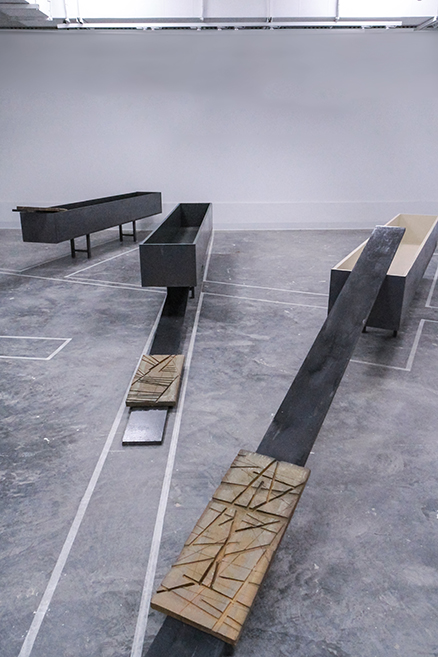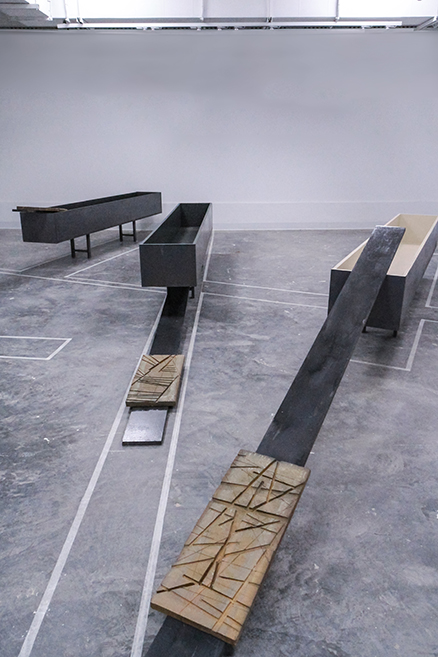 Photos ; Installation 354 inches x 270 inches. Laser engraved Wood 25 x 12,5 inches x 1,5 inches, jr-tile clay fired at cone 6,
Wood object Linseed Oil painted 25 x 12,5 inches x 1,5 inches, 3 . Photos Anja. photo below from Alfred University Archive – photographer unknown.
MEMORY – FRAGMENT 3 – PRESENTED AT NEW YORK STATE COLLEGE OF CERAMIC ART
MEMORY; The mental capacity or faculty of retaining and reviving facts, events, impressions, etc., or of recalling or
recognizing previous experiences. http://www.dictionary.com/browse/memory
For psychologists the term memory covers three important aspects of information processing:
Encoding: When information comes into our memory system (from sensory input), it needs to be changed
into a form that the system can cope with, so that it can be stored. 
Storage:  The nature of memory stores, i.e. where the information is stored, how long the
memory lasts for (duration), how much can be stored at any time (capacity)
and what kind of information is held.  The way we store information affects the way we retrieve it. 
Retrieval: This refers to getting information out storage. 
If we can't remember something, it may be because we are unable to retrieve it.
"Your memory is a monster; you forget—it doesn't.
It simply files things away.
It keeps things for you, or hides things from you—and summons them to your recall with will of its own.
You think you have a memory; but it has you!"
― John Irving, A Prayer for Owen Meany
When the narrative telling of nation's history and of villages in general are constructed, it is based on collective memories
and the Ideas of what it want to storage and tell, and what doesn't seem important in the line of history.
For a human being, with the gift of a life, from birth to death, our memories are
placed in between those two happenings, those are our storage for our narrative of our individual telling of histories.
Marcus Tillus wrote; The life of the dead is set in the memory of the living.
Marcus Tullius Cirero, Phillips Pics 3.1.106-7.12.43
 While Benjamin wrote;
Every Image of the past that is not recognized by
The present as one of its concerns threatens to
Disappear irretrievably.
-Benjamin
LINES OF MEMORIES
RE-IMAGING TIME
ABSTRACT
In spring 2017 I was invited for a Theodore Randall international Chair at New York State College of Ceramic Art,
School of Art and Design, Alfred University.
I here had to do Art research /an art project – as well teaching a Junior 2 System class, supervise and give critique of grad
Students and attend meetings. This page is presenting my art project LINES OF MEMORIES –
Re imaging time-Fragment 1 out of 5 fragments all together.
BACKGROUND
It was a project in its origin based on local history, topology, archaeology and architecture presented
at the opening as a guided tour containing 5 fragments:.
Fragment 1;  "Landscape a video presented at Alfred Ceramic Art Museum, NY, USA
Fragment 2; "Lines" Permanent outdoor concrete earth installation
Fragment 3; "Memory" wood-ceramic Installation at New York State College of Ceramic art, School of Art and Design, Alfred University
Fragment 4; "Time" ceramic Installation at  New York State College of Ceramic art, School of Art and Design, Alfred University
Fragment 5; "The End" out-door earth-ceramic Installation.
A fragment is defined as;
a part broken off or detached from
A fragment; an isolated, unfinished, or incomplete part
A fragment; an odd piece, bit, or scrap.
In my work I reflect on the nature of time and the narrative telling of local history mixed with my own personal
interpretation hereof. I am curious about how memories, founding's and fragments or artifacts can be parts of
a constructed narration of a history, a nations history, a village history and my own personal history.
I am an artist my intention is not to be an historian nor an archaeologist.
The fragments were presented as 5 installations  at Alfred ceramic Art Museum. NY, USA,
New York State College of Ceramic Art, School of Art and Design, Alfred University and
outside in public place in front of Alfred ceramic Art Museum.
SUPPORTED BY NEW YORK STATE COLLEGE OF CERAMIC ARTS
INVITED  INTERNATIONAL THEODORE RANDALL CHAIR 
SEE BOOK AT SAXO 
OR AT CATALOG AND ARTICLES