PROFILE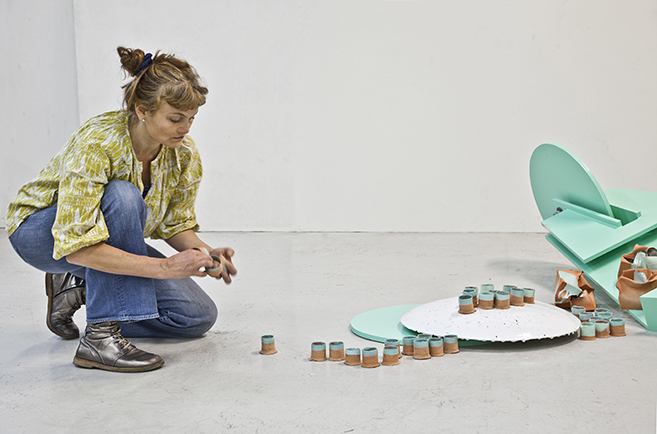 I am a Danish material-based installation artist, designer and researcher.
I hold a:
MFA from the Royal Danish Academy of Fine art, School of Visual Art
a PhD in Architecture
and a master of Science engineering, with specific focus on designing new materials.
I have exhibited nationally and internationally at galleries and museums and in urban spaces
as well done permanent sitespecific art installations, (udsmykningsopgaver).
I have been invited for several Artist in residencies latest in 2017 for a Theodore Randall International Chair at
New York State College of Ceramic Art, NY, USA
and in 2015 half a year at Shangyuan Art Museum, Beijing, China.
I have written articles and books for magazines nationally and internationally
and received Danish Art foundations, among other foundations.
I do site specific, conceptual mixed media installation art and designs, defined
by mixing methods used in fine art, architecture, design and technology.
It is from this versatile background I pose questions and investigate being in the world.
In 2009-2014 I developed, in a funded art-technology project,
a new ceramic technology, specific ceramic glazed concrete,
for urban spaces. My wish was to develop large scale, ultra thin, bendable, ceramic
we even when hanging in urban spaces and based on new concrete technologies
want to kiss.
(See book published at Polyteknisk Publisher, Bache, 2014).
EDUCATION
Artist from the Royal Danish Academy of Fine Arts, School of Visual Arts
PHD-Doctor in Architecture from The Architect School Aarhus
Master of Science in Civil Engineering DTU
Film and Documentary School Digital films for web

SELECTED EXHIBITIONS
Alfred Ceramic ArtMuseum, USA, NY 2017
Shangyaun Art Museum, Beijing, China 2015
Marsden WOO Gallery London 2014
Galleri 21 Malmø, Sweden 2014
Officinet Copenhagen 2014
Charlottenborg Copenhagen 2013
Craft Bienale, Copenhagen 2014
GRANTS AND FUNDING – SELECTED
Theodore Randall international visiting artist, NY USA
Invited for pre-qualification for urban art-installation, Denmark
Danish Government Art Council foundation
The Danish Central Bank's Anniversary Foundation of 1968
Grosserer L.F.Foghts Fund
Realdania Foundation
Dreyers Foundation
Danish Art Workshops, Grants
San Cataldo, Italy,
Guldagergaard, International Ceramics Research Center, artists' retreat

EMPLOYMENTS-SELECTED
Former Associate Professor, Oslo National Academy of Fine Arts, Ceramic Arts
Former Associate Professor at the Technical University of Denmark, the Department of Architectural Engineering
BOOKS AND CATALOGUES -SELECTED
Questioning material design, art-design and technology, Polyteknisk forlag
Lines of Memories, NY, USA
The Sound of China, Beijing China
Ceramic Entropy, Beijing China
Patterns of Memories, Beijing China
Behind the Walls, Beijing China
Timewheel, Urban decoration
Transformations, Grønbechsgård
Ornamental Play 1, Gallery Oxholm
Signs and the signed, Marsden Woo Gallery London
Ceramic on tour, gallery 21, Malmø
Displacements – Ceramic Spaces, International Ceramic Art Museum

ANJA BACHE creates mix-media site-specific installation art and Designs related to the site and life in and around it.