PROFILE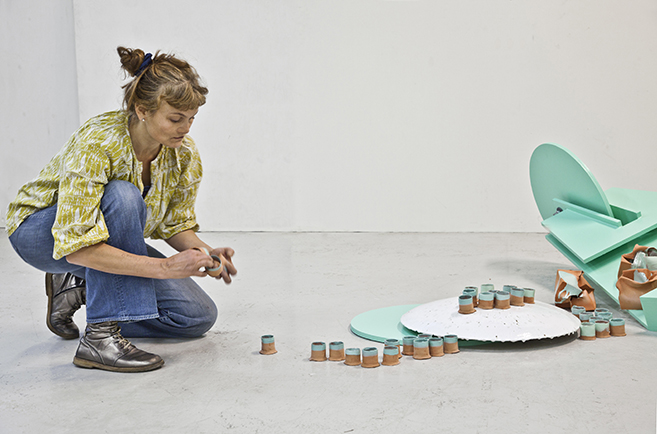 I AM A DANISH INSTALLATION ARTIST, DESIGNER AND RESEARCHER.
EDUCATION
Artist from the Royal Danish Academy of Fine Arts, School of Visual Arts
PHD-Doctor in Architecture from The Architect School Aarhus
Master of Science in Civil Engineering DTU
Film and Documentary School Digital films for web
SELECTED EXHIBITIONS
Invited for doing a sketch propsal for a public art commission 2020
Invited for doing sketch proposal for a public art Commission Växjö 2019
Ceramic Art Installation The Ceramic Museum of Denmark, CLAY, 2018
Public Art Project – for Helsingør Culture House, 2018
Alfred Ceramic Art Museum, Permanent public art and exhibitions USA, NY 2017
Shangyuan Art Museum, Out door exhibitions Beijing, China 2015
Marsden WOO Gallery London 2014
Galleri 21 Malmø, Sweden 2014
Officinet Copenhagen 2014
Charlottenborg Copenhagen 2013
Craft Bienale, Copenhagen 2014
GRANTS AND FUNDING – SELECTED
Theodore Randall international visiting artist, NY USA, 2017
Invited for pre-qualification, Sketch proposal, for urban art-installation, Community of Växjö, Sweden, 2019
Invited for pre-qualification, Sketchproposal, for urban art-installation, Community of Faxe Denmark, 2016
Danish Government Art Council foundation, 2018, 2015, 2013, 2012, 2010
The Danish Central Bank's Anniversary Foundation of 1968, 2015, 2013, 2012
Grosserer L.F.Foghts Fund, 2015
Realdania Foundation, 2009, 2014
Dreyers Foundation, 2014
Danish Art Workshops, Grants, 2006, 2012, 2013, 2018
San Cataldo, Italy, 2011
Guldagergaard, International Ceramics Research Center, artists' retreat, 2010-2011

EMPLOYMENTS-SELECTED
Invited Professor, Academy of Design and crafts, Gothenburg University, Ceramic Arts, HDK, 2018
Former Associate Professor, Oslo National Academy of Fine Arts, Ceramic Arts, 2016
Former Associate Professor at the Technical University of Denmark, the Department of Architectural Engineering, 2008-2016
INNOVATION – SELECTED-GLAZED CONCRETE
Specific ceramic glazed concrete 1998-2014
A technology where concrete is engineered for large scale
ultra thin and bendable facades, with the
visual telling of a combination of concrete and ceramic.
BOOKS AND CATALOGS -SELECTED
Questioning material design, art-design and technology, Polyteknisk forlag, 2014
Lines of Memories, NY, USA, 2017
The Sound of China, Beijing China, 2015
Ceramic Entropy, Beijing China, 2015
Patterns of Memories, Beijing China, 2015
Behind the Walls, Beijing China, 2015
Timewheel, Urban decoration, 2016
Transformations, Grønbechsgård, 2014
Ornamental Play 1, Gallery Oxholm, 2013
Signs and the signed, Marsden Woo Gallery London, 2013
Ceramic on tour, gallery 21, Malmø, 2014
Displacements – Ceramic Spaces, International Ceramic Art Museum, 2012

ANJA BACHE creates material based site-specific installation art often in connection with light and video – art – programs for dialogue with place, time and context.