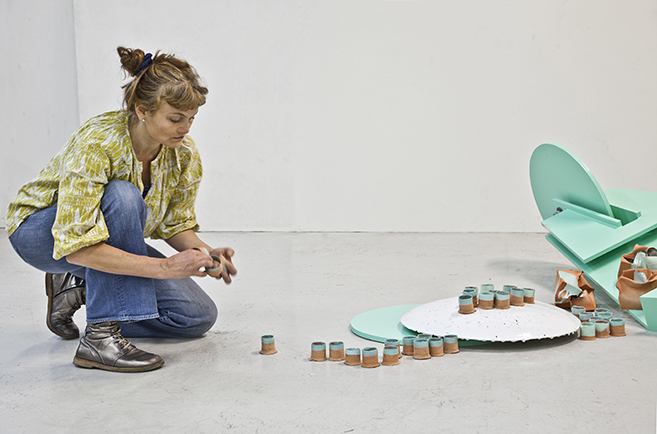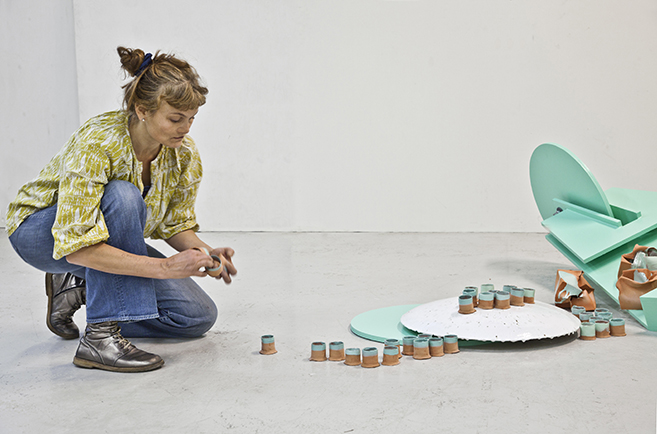 CURRICULUM VITAE
ANJA MARGRETHE BACHE
Visual Artist and Researcher
EDUCATION
MFA Artist from the Royal Danish Academy of Fine Arts, School of Visual Arts
PHD-Doctor in Architecture from The Architect School Aarhus
Master of Science in Civil Engineering DTU
Film and Documentary School Digital films for web
There is a cool formalism to the work of Anja Margrethe Bache.
Calm, cerebral and analytical, the work betrays her past studies in engineering
as she uses concrete, ceramics, steel and wood to investigate space.
Her geometries are linear, often computer generated or drawn with a ruler.
They are architectural. They define spaces that have defined boundaries.
Her work is minimalistic and relativistic.
The forms are not burdened with layers of meaning, but exist in their own purity.
Ms Bache's pieces are a reflection of her environment, a distillation of form and an embodiment of personal space.
CHRISTOFFER PELLEY A New York City based artist and arts writer, that lives and works in Roma and Beijing, Beijing, 2015.

STATEMENT
I am a Danish Visual Artist. I work with site-specific contextual material based art
investigating, posing questions, commenting, enhancing specific aspects and/or changing perspectives on the sites I work with.
My art and research is cross skilled and aim at creating meetings, reflections and dialogues.
I have exhibited nationally and Internationally at galleries, museums and in public spaces.
PUBLIC ART COMMISSIONS
Public art – Won Commission- "Herbarium for lægevidenskaben" – Park and entrance area – Högsbo new Specialist Hospital in Gothenburg 2020 -2023
Public art – Invited for Prequalification / sketch proposal – "Tendenser i Lyset" For the new townhall and train station in Växjö 2019
Public art – Won Commission – "Scenen er sat" – Helsingør Culture House, supported by The Danish Art Council and the community of Helsingør 2018
Public art – Performed 2017 – "Lines of Memories" – Alfred, NY, USA – Supported by New York State College of Ceramic Arts, NY, USA, 2017
Public art – Prequalification – " A Time-wheel" – For a roundabout in Faxe, Denmark, 2016
Public art – Performed 2015 -"Displacement 2" – for The Technical University of Denmark – Entrance hall and 3 meeting rooms, Lyngby, Denmark, 2015
SITE SPECIFIC INSTALLATIONS / EXHIBITIONS – SELECTED 2012-2020
"Dream of Flowerland" – The Ceramic Museum of Denmark, CLAY, 2018
"Lines of memories" – three Exhibitions at Alfred ceramic Art museum and at New York State College of Ceramic arts, NY, USA 2017
"Behind the Walls" – Installations in Private Chinese Homes – Village Shayoukou Beijing China 2015
"Sound of China", "Patterns of Memories" and "Ceramic Entropy" – three exhibitions at Shangyuan Art Museum, Beijing, China 2015
"Transformation" – Grønbechs gård, Hasle, Denmark, 2014
"Ornamental Play 2" – Officinet Copenhagen 2014
"Textile ornamentation – Ceramic Glazed Concrete" Craft censored Biennale, Copenhagen, 2014
"Signs and the Signed" – Marsden WOO Gallery London 2013
"Ceramic on Tour" -Galleri 21 Malmø, Sweden 2013
"Textile ornamentation – Ceramic Glazed Concrete" – Charlottenborg Spring Exhibition censored exhibition, Charlotteborg, Copenhagen 2013
"Ornamental Play – Gallery Oxholm, Copenhagen, 2013
"Displacement" – Museum of International Ceramic Art, Grimmerhus, Middelfart, Denmark 2012
GRANTS AND FUNDING – SELECTED
Prize – Anne Marie Telmanyi Født Carl Nielsens Fond -Recognition of artistic work 2021
Invited for Adjunct Professorship – Academy of Art and Design- HDK-Valand Gothenburg 2018-2020
Danish Government Art Council foundation, 2018, 2015, 2013, 2012, 2010
Theodore Randall international Chair, invited by New York State College of Ceramic Arts, NY USA, 2017
The Danish Central Bank's Anniversary Foundation of 1968, 2015, 2013, 2012
Grosserer L.F.Foghts Fund, 2015
Realdania Foundation, 2009, 2014
Dreyers Foundation, 2014
Danish Art Workshops, Grants, 2006, 2012, 2013, 2018, 2021
San Cataldo, Italy, 2011
Guldagergaard, International Ceramics Research Center, artists' retreat, 2010-2011
INNOVATION – GLAZED CONCRETE
Ceramic Glazed concrete- 
Fond financed art-architecture/Design and natural science development project- 
Technical University of Denmark, Section of Architectural- Engineering, DTU BYG 2009-2014
BOOKS
Bache, Anja, (2014), Questioning, Polyteknisk Forlag, 276 Pages, English, Kongens Lyngby, Denmark ISBN 978-87-502-1083-2.
Bache, Anja, (2012), Ceramic Spaces, Displacements; , DTU-BYG, ISBN nr. 9788778773357, Lyngby, Denmark
Bache, Anja, (2004). Ny beton-Ny form, with support from Aarhus School of Architecture
ARTICLES 
Bache, Anja, (2018) Skal kunst bruges til at synliggøre et kulturhus?, ART MAGAZINE – I DO ART
Bache, Anja, (2012), Ceramic Glazed Concrete, New Ceramics, 4/2012,The European Ceramic Magazine, Side, p. 21-23.,
Bache, Anja, (2010), Glazed Concrete, Development of Large Scale Ceramic glazed Concrete Sculptures in Public spaces, 2010, Ceramics Technical, No.31. New Richmond,Wisconsin USA.
Bache, Anja, (2010), Large Scale Glazed Concrete Panels a dialogue with Architecture,2010, Conference papers, gathered in the book; Colour and Light in Architecture, International Conference, Venice Italy, IUAV University of Venice Italy,
Bache, Anja, (2008), Technology transfer, Arkitekten, March, Arkitektens Forlag, Copenhagen.
Bache, Anja, (2008), Technology Transfer to Architectural and Design Praxis, in book, '150 years build the future', BYG-DTU, 
Bache, Anja, (2007), Urban Light, Det Multifunktionelle Lysmøbel i ny komposit teknologi til byrum, Arkitekten September, 
Arkitektens Forlag, København.
Bache, Anja, (2006), Det præfabrikerede kompakte mikro-hjem, Arkitekten 1/06, Arkitektens Forlag, København.
Bache, Anja (2005). Tyndplader Facadebeklædning, Arkitekten 13/05, Arkitektens Forlag, København, 6 pages.
Bache, Aja, (2003). En ny betonteknologis formverden, Arkitekten magasin 09, 105. årgang, s. 19-21, København, Arkitektens Forlag, 3 pages.
Bache, Anja (2000). To Betonkirker, Arkitekten magasin 04 102. årgang, s.10-17, København, Arkitektens Forlag, 8 pages.nts,
CATALOGUES – SAXO PUBLISHER AND  WWW. ANJABACHE.COM – CATALOGUES
Tendenser i lyset, Växjö, 2019
Scenen er sat, Helsingør 2018
Lines of Memories, NY, USA, 2017
The Sound of China, Beijing China, 2015
Ceramic Entropy, Beijing China, 2015
Patterns of Memories, Beijing China, 2015
Behind the Walls, Beijing China, 2015
Timewheel, Urban decoration, 2016
Transformations, Grønbechsgård, 2014
Ornamental Play 1, Gallery Oxholm, 2013
Signs and the signed, Marsden Woo Gallery London, 2013
Ceramic on tour, gallery 21, Malmø, 2014
Displacements – Ceramic Spaces, International Ceramic Art Museum, 2012