LINES – FRAGMENT 2 – NY USA – 2017
PUBLIC ART -AN OUTDOOR PERMANENT ART INSTALLATION – IN FRONT OF ALFRED CERAMIC ART MUSEUM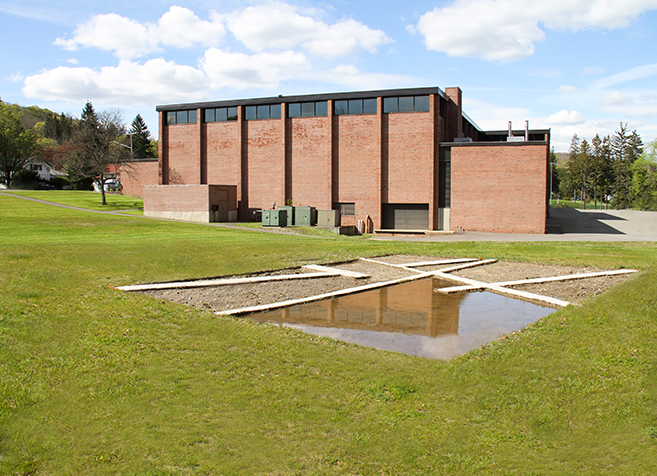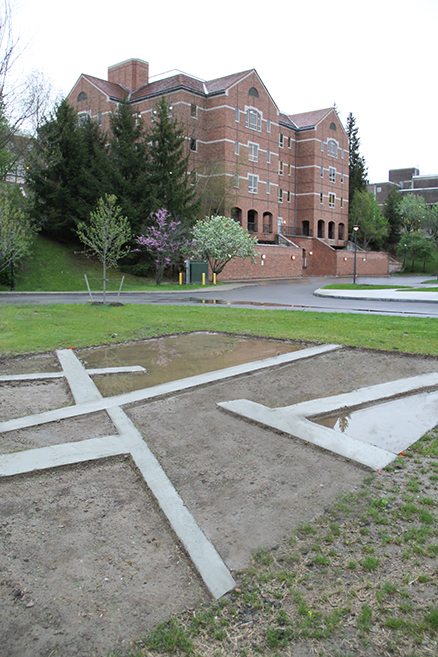 Photos; In-situ casted concrete lines, excavated earth 354 inches x 270 inches. Photos Anja.
LINES
"WE SEE IN ORDER TO MOVE; WE MOVE IN ORDER TO SEE"― WILLIAM GIBSON
The landscape around Alfred is set by lines, lines of the past and present
but also lines as representations of the movements that has taken place and still do today.
The Native American before the American Indians is told to come from parts of Asia,
The Seneca American Indians came from other parts, and were in a way nomadic,
moving their villages and wooden longhouses with bark as cladding, every 7-10 th. year for giving the farmland a rest,
the new settlers came from other parts of the country, the western of USA and often with ancestors from Europe.
They arrived here in horse driven caravans. And Today students and faculty arrive from all over the world often in big cars.
The lines are set for each of them.
Lines have if they are not infinite a beginning and an end, and if they are not parallel, and looked upon in the Euclid's geometry and
Newtons mechanical physics they will intersect in one point.
Alfred is that point, here cultural encounters is a part of your history in the past and in the present.
I have been on one of those lines and have been in the point, Alfred Village for 4 month and one week, my future line is calling,
I have to go back home on Thursday to Denmark.
But as in a non-Euclid's geometry and in Einsteins physics Relativity theory, my line is not straight,
when I have passed the point of Alfred I will carry with me memories,
that has changed me forever. Alfred has been like a bell jar for me, I am no longer in the mechanical world of
ewton, nor in Euclid´s, Einstein's or non-Euclid geometries,
I therefor bend my future line AND MAKE MY OWN HISTORY.
SUPPORTED BY NEW YORK STATE COLLEGE OF CERAMIC ARTS
INVITED  INTERNATIONAL THEODORE RANDALL CHAIR 
SEE BOOK AT SAXO 
OR AT CATALOG AND ARTICLES
PROCES OF MAKING THE CONCRETE LINES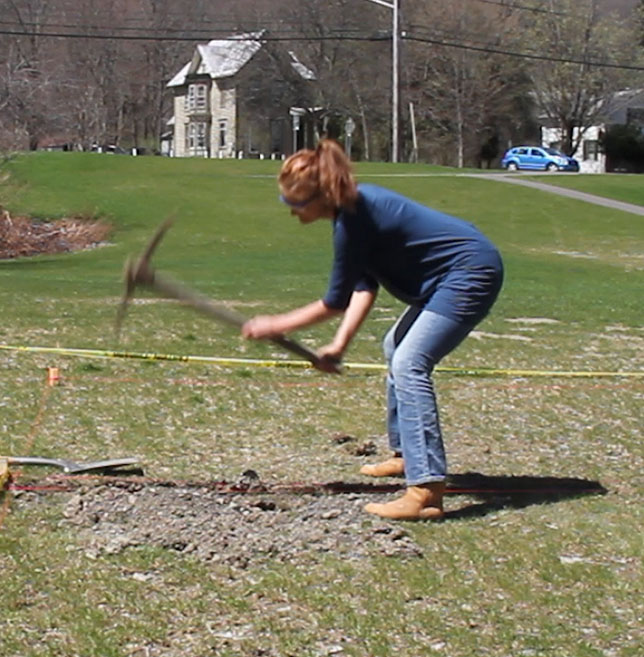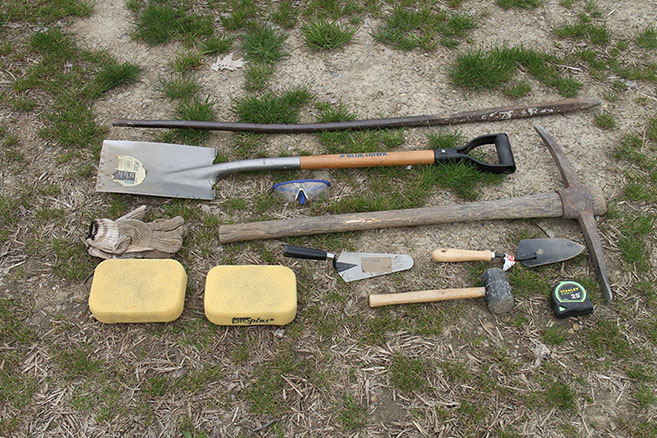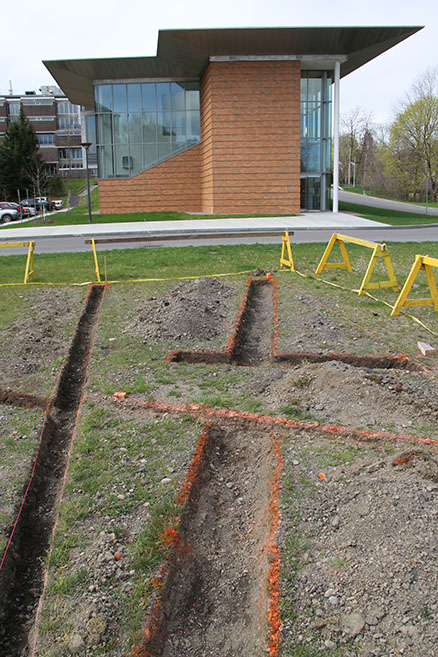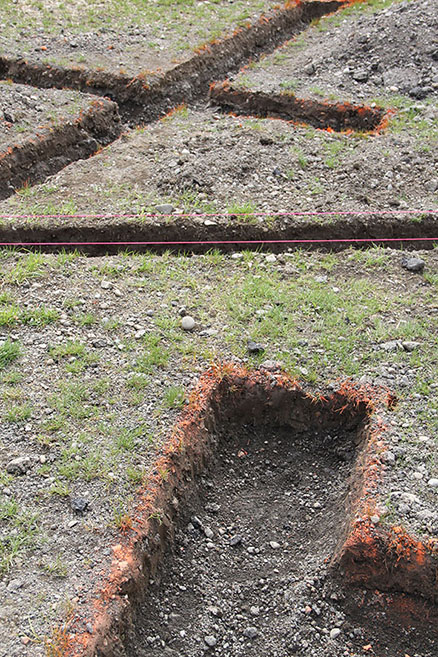 Photos Caitlin and Anja.
Video showing some of the digging work. At the casting proces of concrete, I got great help from (video showing that part)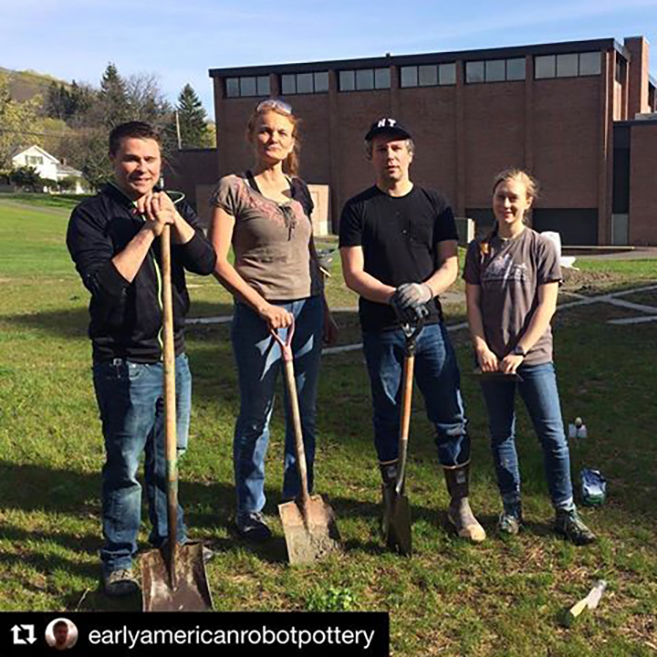 Keith Simpson and Shawn W. Murrey
both being so fantastic in helping also with a lot of other stuff.
Thanks a lot I am so grateful. Also Hanna helped at casting proces
Thanks also to you Hanna.
Thanks to Roger Mac Graw for your great help also.
Video showing Roger digging the hole for part 5
the hole where i buried the ceramic for future
archaeological excavations telling new histories. 
Thanks also to;
Professor Linda Sikora
Professor Linda Sormin
Associate Professor Matt Kelleher
My TA and at that time 1. year Masterstudent Cory R Mahoney as well
Professor Walter McConnel
For inviting me as well for great time together.
I have been so happy to meet you.
LINES OF MEMORIES
RE-IMAGING TIME
ABSTRACT
In spring 2017 I was invited for a Theodore Randall international Chair at New York State College of Ceramic Art, School of Art and Design, Alfred University.
I here had to do Art research /an art project – as well teaching a Junior 2 System class, supervise and give critique of grad Students and attend meetings. This page is presenting my art project LINES OF MEMORIES – Re imaging time-Fragment 1 out of 5 fragments all together.
BACKGROUND
It was a project in its origin based on local history, topology, archaeology and architecture presented at the opening as a guided tour containing 5 fragments:.
Fragment 1;  "Landscape a video presented at Alfred Ceramic Art Museum, NY, USA
Fragment 2; "Lines" Permanent outdoor concrete earth installation
Fragment 3; "Memory" wood-ceramic Installation at  New York State College of Ceramic art, School of Art and Design, Alfred University
Fragment 4; "Time" ceramic Installation at New York State College of Ceramic art, School of Art and Design, Alfred University
Fragment 5; "The End" out-door earth-ceramic Installation.
A fragment is defined as;
a part broken off or detached from
A fragment; an isolated, unfinished, or incomplete part
A fragment; an odd piece, bit, or scrap.
In my work I reflect on the nature of time and the narrative telling of local history mixed with my own personal interpretation hereof.
I am curious about how memories, founding's and fragments or artifacts can be parts of a constructed narration of a history, a nations history, a village history and my own personal history.
I am an artist my intention is not to be an historian nor an archaeologist.
The fragments were presented as 5 installations  at Alfred ceramic Art Museum. NY, USA, New York State College of Ceramic Art, School of Art and Design, Alfred University and outside in public place in front of Alfred ceramic Art Museum.