THE SCENE IS SET
PUBLIC ART HELSINGØR 2018- MARKING A RED LINE  IN HELSINGØR – BASED ON AN OPEN CALL.

Supported by DANISH ART COUNCIL VISUAL ARTS and TOLDKAMMERET, CULTURE HOUSE, HELSINGØR.
See "VORES KUNST"
See Danish article at; I DO ART
See Sketch Proposal HERE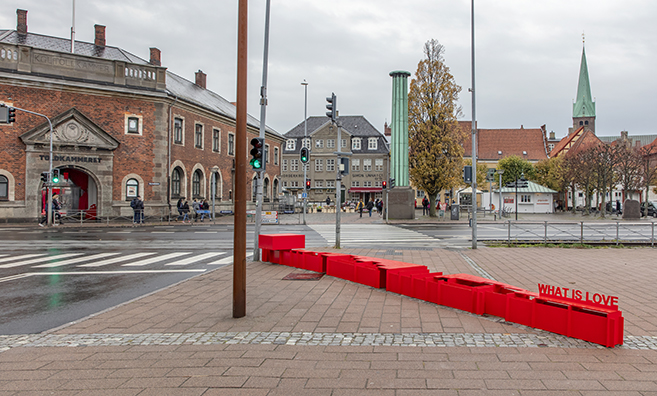 Installation 1 of 4 Havnepladsen Helsingør -Related to Øresund, Ships, Packages and Transport – What is love

Installation 2 of 4 the main entrance -Groundplans of old historical buildings in Helsingør –
set as a scene of change and stacked as a backdrop for theater.  What is Culture.

Installation 3 of 4 courtyard  -16 scenes are set for your staging – step up step closer.  What is Art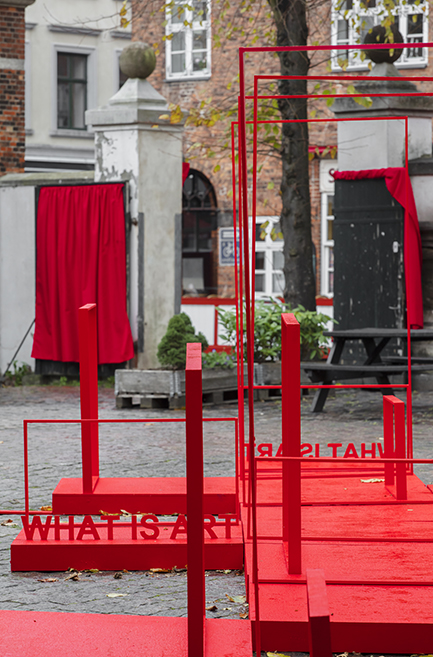 Installation 4 of 4 Strandgade Helsingør – The Back entrance to Toldkammeret – Setting a scene of the old building
What is Life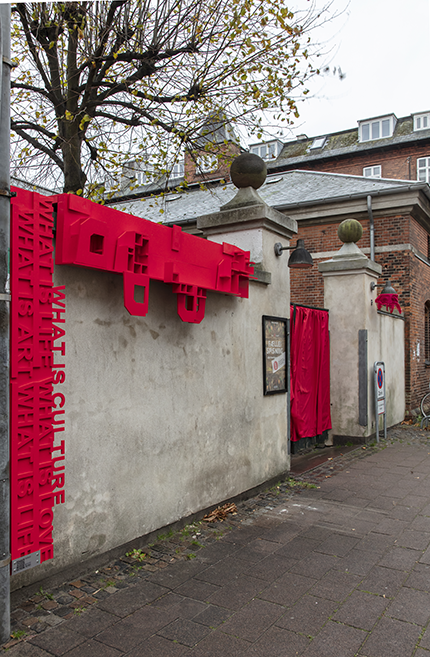 Photos; installationspart 1-4 marking the line from Havnepladsen through The CultureHouse
Toldkammeret to Strandgade posing questions – what is life, what is art, what is love and what is culture.
#whatislove #whatisart #whatisculture #whatislife. Photographer Ole Akhøj and Maja Bache.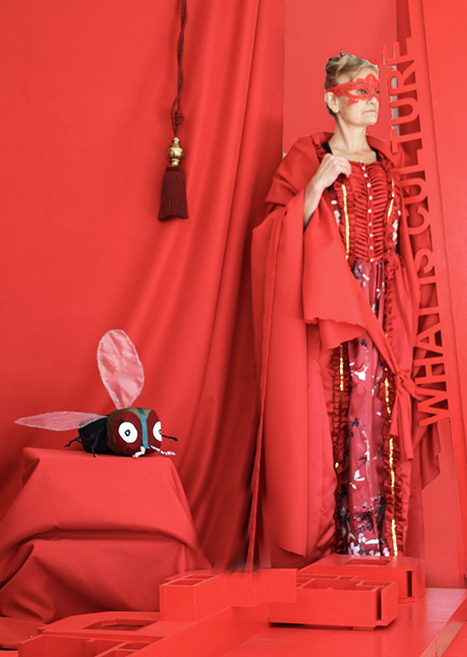 I did an absurd performance, questioning what is art, love, culture and life.
FANTOM FILM recorded it, I did the editing in Premiere pro.

WHAT IS CULTURE – FROM VIDEO 2 

WHAT IS ART – FROM VIDEO 3 

WHAT IS LIFE – FROM VIDEO 4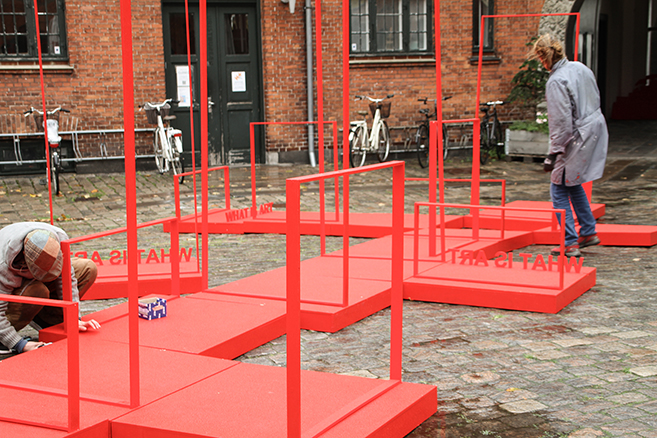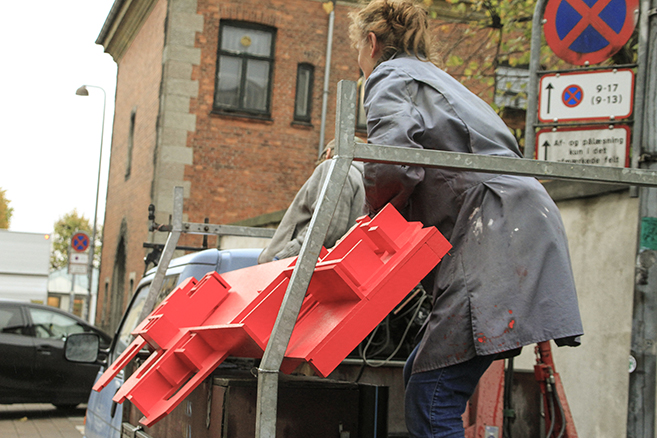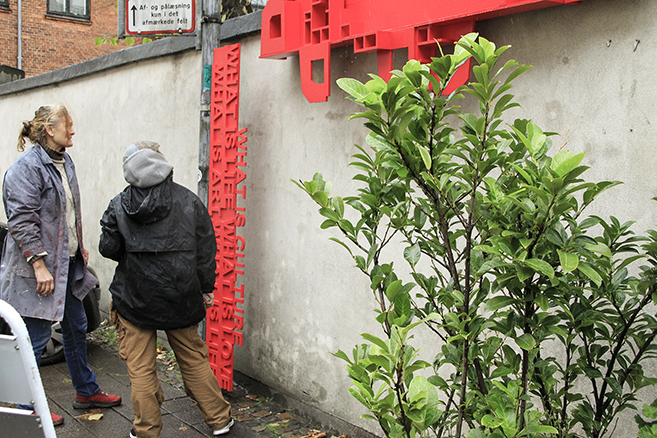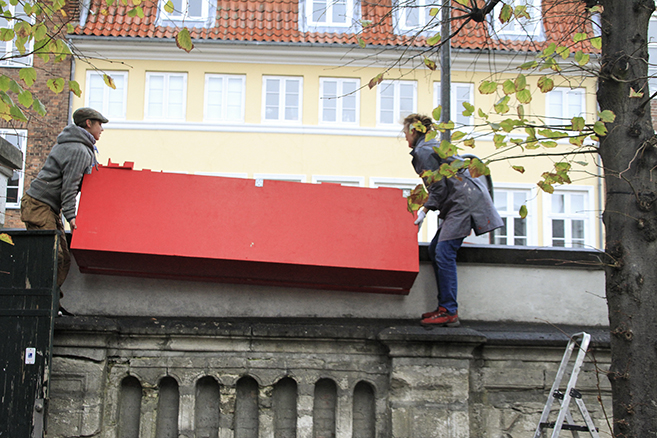 The carpenter Sine Pejs and I mount the 4 installations.Photos Maja Bache. Waiting on photos of the finished installtions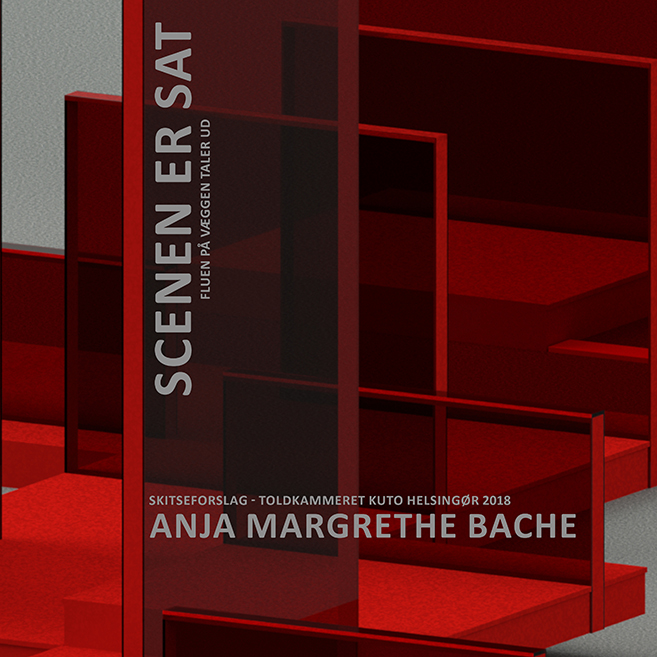 3D Autocad: Anja Bache. Photo: Maja Alberte Bache
FROM THE STUDIO – PROCES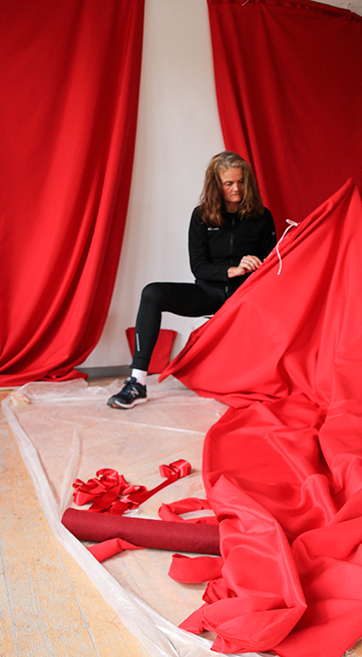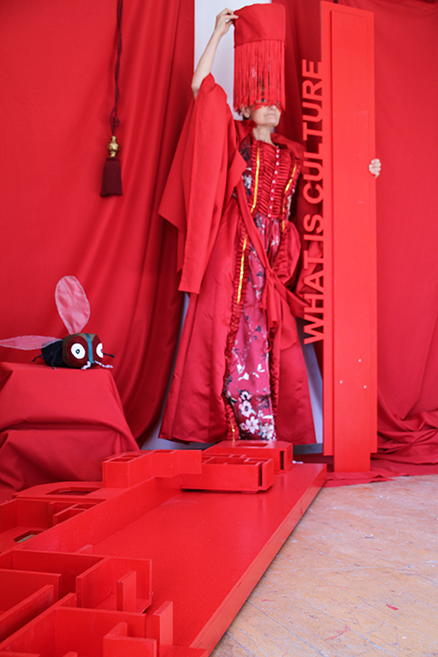 Groundplans of the city rearranged in a play of stenography. Photos Anja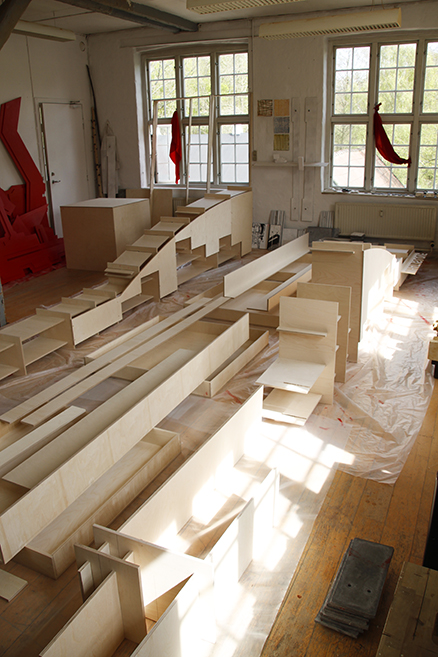 Photos from studio; Maja Bache, Ole Akhøj and Anja Bache.
Firms and institutions related to this project;
The Culture House Helsingør
The Danish Art Council of Fine Arts, Visual Arts
Photograph Ole Akhøj
Fantom Film
Wouters Textiles
Johannes Fog
Light In the Box
Linoliebutikken
Danmarks Tekniske Universitet
Sine Pejs
Martin Dandanell
VistaPrint
Krydsfinerhandlen
Cutlab
Trine Lægdmann
Århus Possementsfabrik